Every once in a while, I'm struck by the thought that what God did to rescue us was more significant that we can ever imagine. We know it was sacrificial. We're told it was painful. But it was also
risky.
We think of risk as what we do. We take the risk to forgive, to love, to trust… But God took the first and greatest risk (which, by the way, makes all the risks we think we take for Him quite safe). The Son left Heaven and His Father's side and was born. The "One Who Always Was" was
born - a baby.
Babies don't know anything. A newborn baby doesn't know that He is the Son of God, come to rescue all of mankind.
Jesus left Heaven knowing that at conception He would forget
(I'm not sure exactly how that all worked, but you get the idea). God (Father, Son and Spirit) had to trust that Jesus would find His way.
So it was a great risk: Would He remain sinless? Would he grow up to know His real Father? Would He listen to the Holy Spirit and discover who He really was? Would He discover the Plan that He had helped to formulate and carry it through? Because He had a choice, after all.
Choices.
Just like the choices Adam and Eve had – and we all know how that turned out. The whole plan of redemption - the very Trinity! - rested on a baby!
What a brave, risky thing God did! Father, Son and Spirit risked it all! For us! God risked His Son, Himself, the relationship of the Trinity, and all of creation, just to rescue us. And Jesus was forever altered. For all of eternity past, the Son was
perfect.
From the cross forward, He is scarred. Because of...for...
us.
These are the thoughts about Jesus that leave me breathless. So this was on my mind today, and tonight I listened to a recording of Jackie Pullinger (missionary to the Walled City, Hong Kong; she wrote "Chasing the Dragon") speaking at a church somewhere in the English-speaking world, and here is what she said (emphasis mine):
"As there's no more pain and crime [in Heaven], as there's no more death, no more sickness, we are perfect because of Him, and we're washed clean because of Him.
The only one scarred in the whole of Heaven is Him.
For that book, called The Revelation, tells us there's a Lamb, looking as though it's been slain. How strange that for eternity,
we are perfected in the presence of a scarred Lamb."
The only one scarred in the whole of Heaven is Him.
I think of Him as standing out among the whole of Heaven in beauty, in flashes of light, in power and victory. I have not – until now – thought of Him as standing out in all of Heaven as the only one who is scarred. He bears eternal marks so that we can be free of all of ours eternally. I'm overwhelmed.
What to do with a God like that?
That is the question, isn't it?
What to do with Jesus?
Your life is a journey you must travel with a deep consciousness of God. It cost God plenty to get you out of that dead-end, empty-headed life you grew up in. He paid with Christ's sacred blood, you know. He died like an unblemished, sacrificial lamb. And this was no afterthought.

Even though it has only lately—at the end of the ages—become public knowledge, God always knew he was going to do this for you. It's because of this sacrificed Messiah, whom God then raised from the dead and glorified, that you trust God, that you know you have a future in God.


1 Peter 1:18-21 The Message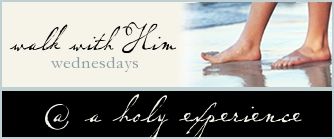 Kimberly Schulz Lorentzen is a graphic artist, huntress, wife, mother and God-Chaser who lives in Alaska and guests here whenever she spills goodness into my email.
Kat